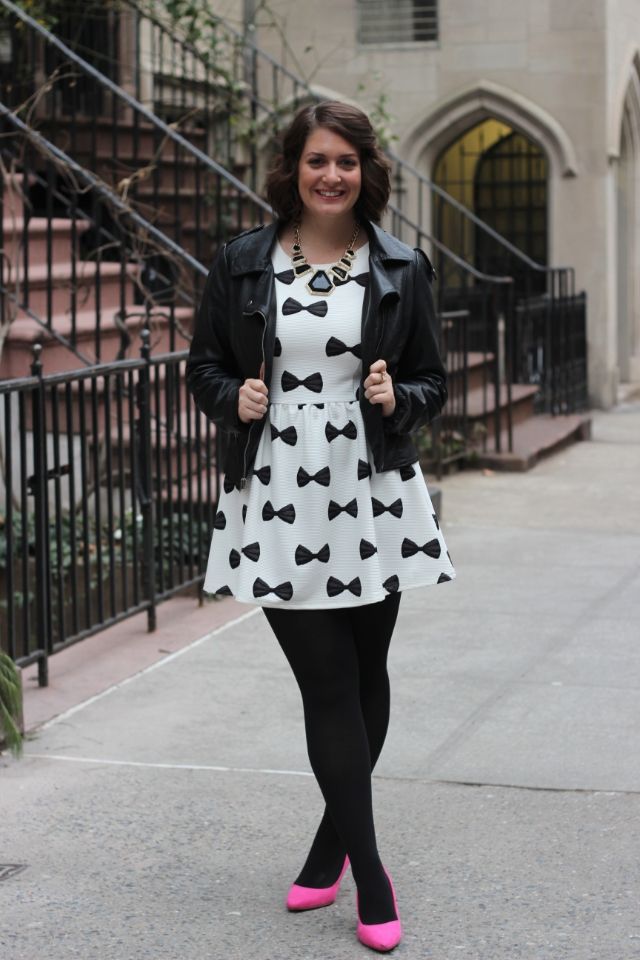 H&M Bow Print Dress (love this one and this one too) // BaubleBar necklace (old, but similar) // Express tights // Leather Jacket (gift from Grandparents! They're so stylish) // H&M heels (old, but love these or these) // Ban.do bobby pins (can't find online, but these and these are so adorable).
Happy Monday!
Man, this is going to be a rough one. Between it being the first full week of work in what seems like forever, and the weather being downright awful, I'm pretty sure it's going to be iffy on my mental survival rate this week. The winter blues is real guys (all comments of encouragement welcome this week).
Anyway, what better way to pep up a dreary day than with a super fun outfit? I feel like this is one of those outfits that people would describe as "Nicole". I'm a sucker for this kind of cut dress with a fun print...and well hot pink heels is kind of a no-brainer. Someone recently said this dress reminded them that sometimes I dress like Jess from New Girl. While I'm not sure that is a total compliment, I had to agree with them on the dress. Though, hopefully the added necklace bling and leather jacket made it a tad-less New Girl-ish. She's pretty hilarious though so I'm still ok with it.
I hope everyone survives the continued crazy weather!
xo n.